Phuket Town
Discovery Walking.
Many tourists who have been on holiday in Phuket, but they said that they never saw any real meaning of Phuketien or Phuket People living life. Moreover, they never have been in Phuket Town, because almost all of the resorts and tour destination trips will always be located just in the Tourism Areas. And sure, every tourist area will be the same around the world.

"This trip can make you able to see Phuket differently from the other tourist eyes."

The following is the highlight pictures and detail of the trip as the brief Program:
Walking Trip can see something more in the different  eyes from the normal tourist.
Fresh market or appointment Market is the one important factor of local people living life in Phuket. All kinds of fresh fruits or food can be buy here.
Chineses Temple or Shrine, which is considered to be the holy area. You should not miss this if you want to know more Phuket People.
The sub-Museum of Phuket Traditional, this place tells you all about the ancient traditional of Phuket.
The way of Phuket People living life since the last 200 years ago can be seen on this street. The old Town Street shows old tradition of Phuket.
Brief Programs



12.00 PM:
Pick up from the Hotel
12.30 PM:
- The start Point of Walking: Walk to Visit Shrine (Chinese's Temple.) And walk along the road street town the Local Market. (Down-Town Market)
- Finish Market discovery, our tour guide will lead by walking to "Yaowaraj Road." Walking for window shopping along the road to the "Local Food Center"
- Test one dish of Local food and one bowl of Historical Local Sweet "O'Eaw" We promise that you will love it.
- After full with "Thai Local Food & Sweet Supper" We start to walk to "Phuket Old Town to see the Art of Chino-Portuguese or Chinese and Portuguese Mixed Art.
- Stop at the Local Phuket Museum in the middle of Old Town, before walking.
- Stop to take the Landmark of Old Town "Soi Romanee"
- Walking through the Center of Phuket town to the "Dragon Courtyard"
17.00 PM:
Our Private Car and Driver is waiting for you at Dragon Courtyard, we are back to your hotel.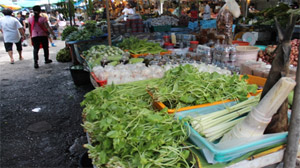 Price includes:
Pick Up and Drop of from your hotel
English Tour Guide
All entrance fee to the places in the Program
Insurance
Soft Drinks
Supper (One Dish or Local Thai Food and Sweet "O'Eaw"
What to bring:
Sun block lotion
Sun cap, sunglasses
Walking shoes
Camera
Lot of smile
Notice: Minimum Booking 2 person.