Special Day Tour Concerns Safari
- Difference Trip:
Talane Canyon Canoe + Krabi National Park Waterfall + Phang Nga Animal Wildlife Center + Monkeys Cave Temple

This day tour will invite you to meet and do the activities with all nature concerns.
Paddle the canoeing through the wonderful place of Talane Grand Canyon
Visit the unseen amazing place of Waterfall at Krabi National Park.
Visit the Wildlife Center of Phang Nga.
Visit the Golden Monk Cave (in the other name is Monkey Cave)
The below are the highlight pictures and details of the program which we recommend you to see and read all the details before submitting the booking.
Than Bok Koranee Waterfall is a great place for relaxing your soul, keeping calm and getting more fresh with the real nature of the waterfall in the thick safari.
Visit the Wildlife Animal Reservation Center. Learn, Study and know all kinds of tropical safari animals. This center does rehabilitation, breeding and releasing them.
Talane Grand Canyon at Krabi is considered to be the best place for Canoeing Adventure by paddlers around the world. For sure, 2.5 Hours of canoeing here can make you feel very happy and have a funny adventure.
Monkey Cave Temple or Golden Declining Monk Cave is at the other name is the Signature Place for any tour trip which passes  Phang Nga Province. It is a great place for every age of the People. Funny with monkeys from safari, feel adventure with the temple located in the cave and pay respect for the holy area in the cave.
Brief Programs

This is the special itinerary for the trip (only we do this trip)




| | |
| --- | --- |
| 08.00 AM: | Pick-up from every hotel in Phuket (No extra charge) by Air-Minibus. |
| 09.30 AM: | Arrive Phang Nga Animal Wildlife; see and study all kinds of wildlife such as Animal Birds, Tropical Safari Bears, Andaman Sea Crocodiles, Tropical Capricorns and many other kinds of Safari Animals. |
| 11.00 AM: | Arrive Talane Canyon, do canoeing, pass the real nature mangrove, Canyon and Sea Canal, pass the Sea Safari and say hello to wild animals in the mangrove safari. |
| 12.30 PM: | Lunch on the local Restaurant which is located on the Seaside of Talane Bay (Thai Set Menu) |
| 14.30 PM: | Refresh your spirit  and Swimming at Tharnbok Koranee Waterfall (Nature Waterfall in Krabi). |
| 15.30 PM: | Leave from the waterfall to Phuket. On the way, we stopped at "Monkeys Cave Temple to show respect to the Golden declining Monk in the cave and funnyly feeding the food to Safari monkeys. |
| 17.30 PM: | Arrive your hotel in Phuket |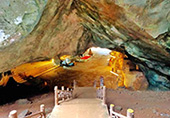 Price:

| | |
| --- | --- |
| Adult | 3,500 Baht/person (Minimum booking 2 people) |
| Child; | 2,500 Baht/person |
Book Now!!! Gets FREE of Charge Transfer in (Airport-Your Hotel)
Tour Includes:
Lunch (Thai Set Menu)
Soft Drink
Paddle Guide, Life Jacket
Life Insurance
What to bring:
Towel
Extra Clothes (Light T-Shirt and short for change)
Insect Repellent
Some pocket money