Suwankhu-Ha Package: (Private Trip)

Monkeys Safari + White Water Rafting + ATV + Elephant Trekking
Monkey Safari is covered the High Mountains in Phang-Nga Province. There are 3 caves inside the mountain. There is one historical temple in a cave called Suwankhu-Ha Temple or in the other name is Golden Cave Temple. On the ground at the foot of the hill, is the place for the safari monkey jump down from the mountain to play and running caper together.

To do this trip, all excursions those are combined in will concern the Safari Activities-White Water Rafting on Safari River, do Elephant trekking pass the thick nature Safari, Hang Up the Flying fox from the tree to the other passing the Nature Canal below.

Please see the highlight pictures and read the itinerary of this Tour Package before submit the booking.
Suwankhu-Ha Temple, the temple is in the cave, the cave is in the mountain, the mountain is in the Safari. And there is a great Golden Declining Monk in the cave.
The thick forest is located in phang-nga area, the nature is 100% completed. There is a fast level Nature River run pass this safari. We are going to play "White Water Rafting" here.
ATV Ridding will be the best if you have a great track, we used the track for ATV Ride pass the Thick Safari with a full of completed nature.
Make you more freshly and nearer touch the safari atmosphere by do the Elephant Trekking pass the thick Safari On Song-Prak National Park.
We will never miss the "Purity Waterfall in the Safari." We need you touch the cold fresh water on this nature place.
Brief Programs

07:30 AM:
We pick up from every hotel in Phuket
- Stop to discover Suwanku-Ha Safari Temple.
- Play, feed and take a picture of Safari Monkeys.
- Get in to see and shows respect the Golden Declining Monks in the Cave.
11:00 AM:
Start to see every corner of Nature Safari by ATV Ridding.
- Practice and Brief the easy Rule for ATV Riders.
- Start to do it yourself now.
12:00 PM:
Elephant Trekking into the thick Safari of Nation Song-Prak
- Passing the High Mountain
- Passing the Nature Cannel
- Passing the Tropical Forest
13:00 PM:
Lunch Time.
- We serve 5 Dishes of Thai Food Set Menu
- The restaurant is on the River Side, Real Nature Atmosphere.
14:30 PM:
White Water Rafting
- Practice and brief the rule of Rafting.
- 5 KM Rafting on the Level 3.
15:30 PM:
Visiting the Waterfall
- Waterfall is located in the Thick Forest
- Take a picture with purity nature
- Take a shower in the Waterfall Lake.
17:00 PM:
Back to Phuket
- Drop you off at the Hotel.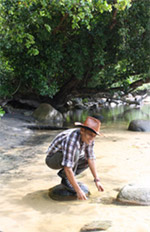 Price:

| | |
| --- | --- |
| Adult | 4,900 Baht/Person |
| Child | 3,900 Baht/Person |
Book Now!!! Gets FREE of Charge Transfer in (Airport-Your Hotel)
Tour includes:
Land Transfer (Pick Up and Drop Off from your hotel)
Soft Drinks
Lunch
English Tour Guide
Insurance
All equipment for Rafting, Elephant Trekking and ATV Ridding.
What to bring:
Swimming Suits
Shorts & light T-shirt
Beach towel
Sun block
Sun cap
Sun glasses
Camera
Lots of smiles